Kate Alport Wood, B.A., MBA, ACC
EXPEDITION Coaching Faculty: Certified Facilitator & Mentor Coach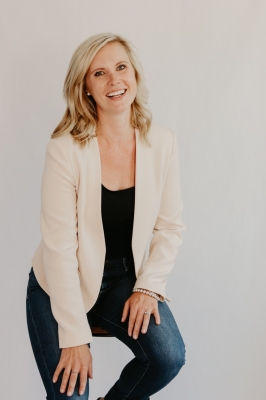 Kate Alport Wood is a certified leadership coach and organizational effectiveness consultant. Kate helps teams find clarity in the chaos of change initiatives. With a background in change management, organizational development and managing large projects, Kate brings a direct approach to sorting through challenges in organizations. She is an expert in organizing thoughts and ideas to create actionable plans and next steps. Kate delivers the EXPEDITION Coaching Program and has been facilitating and designing training for over 13 years, specializing in change management, coaching and organizational & team development.
Kate holds certifications as follows:
• Associate Certified Coach (ACC) - International Coaching Federation - 2023
• Certified Facilitator, EXPEDITION Coaching Program – Destination Leadership – 2020
• ICF-Approved Certified Leadership Coach (CLC) – Destination Leadership – 2021
• Certified in Prosci Change Management Process - 2008
Kate is a consultant and an ICF Associate Certified Coach (ACC), and works with teams to sort through complex business problems by focusing on people. She works with individuals to gain clarity and confidence and build an action plan to up-level their careers and lives.
Kate loves to sort through the chaos of change and whether she's working with teams or individuals, and knows that change can be messy and it can be hard to gain clarity and perspective. There isn't a one-size-fits-all approach to tackling a challenge or going after a big dream. She helps others to expertly navigate the process of change.
Kate spent over 10 years in large organizations managing, leading and helping people navigate change and her personal success came from knowing that change is an individual process. "I learned this the hard way as I navigated some unsteady waters in my own life and through the process I realized that I needed to go at my own pace, I needed to learn the lessons to be learned, and I needed to grow from the experience."
Don't get me wrong…it wasn't all rainbows of self-reflection at the time but I've always been interested in how people work – how they behave, how they think, how they interact. I guess that's why I gravitated to all the psychology classes in my undergrad degree and when I took my Masters in Business Administration I ended up in as many classes as I could about Organizational Behaviour, Leadership, and Teams.
All of that led me here – to the place where I get to work with both teams and individuals. I get to consult with organizations that are tackling big, messy projects or changes and I always start by focusing on the people-side of it (because let's face it, the process isn't the problem!). I also get to work with individuals who are going after a big dream or are looking to step into the next level of leadership in work or life.
While I know that uncertainty is hard I also know that how we think about and respond to it can have a big impact on well we thrive in today's uncertain times. At times you and your team will be stretched, maybe edge into discomfort, but I also know that challenges are only presented as opportunities to learn and grow.
Nothing gets me more excited than watching someone step into their potential by making a big decision, navigating the challenges that arise, and confidently stepping into their new life. That goes for teams too, I LOVE working with teams of people because there is nothing more fascinating to me than the interactions between groups - throw in a dash of change - and it's bound to be fun!